AlertCentre fills a critical need in the market with a monitoring solution that is affordable and easy-to-use yet powerful enough to handle the needs of today's businesses.
Tim Kraus,
President, Kraus Architectures, Inc.
AlertCentre Flash Demo
This demo requires the latest version of Flash to run.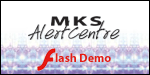 If you do not have the latest version of Flash, it is available
from the Macromedia web site.