In a world of heterogeneous IT environments, the need for a high-performance, transparent PC X server that delivers seamless integration between the Windows desktop and the UNIX/Linux server is critical. This world of PC/UNIX system integration demands a product be available for the newest PC architectures and is easy to use and easy to manage.
PTC X/Server for Windows provides secure, seamless access to character and X-based UNIX applications from the Windows desktop. This allows you to leverage the benefits of new desktop platforms while connecting to UNIX applications throughout the enterprise. Because PTC X/Server is a Windows X Server containing a rich feature set that is easy to use, users can optimize their personal computing environments while minimizing their overall cost of ownership over time.
The next generation PC X Server, PTC X/Server includes the following X-Windows porting and integration features:
Full X11R7.3 server
Secure Shell 2 Support included (SSH)
Cut and paste between Operating Systems (OS); UNIX/Linux and Microsoft Windows applications
Multi-monitor support
OpenGL/GLX 1.4 support for displaying sophisticated 3D imaging applications on a Windows PC. Provides greater user control over Pixel Format to Visual Mapping. No additional 3D license is needed
Remote Environment Support including Citrix, Microsoft Terminal Services and Remote Desktop environments
X Font Compiler
Powerful font substitution (interactive or automatic) with font preview facility


Additionally, when bundled with PTC MKS Toolkit, you are provided with a powerful scripting capability that allows you to automate tasks, customize terminal sessions, and develop solutions configured to the needs of your organization.
Raytheon Missile Systems

" There is a remarkable performance improvement using Mentor Graphics tools with PTC X/Server (previously XVision) as compared to X-Win32. Not sure what you're doing, but it's working."
Datasheet (PDF) » | Evaluation Request | Request Price Quote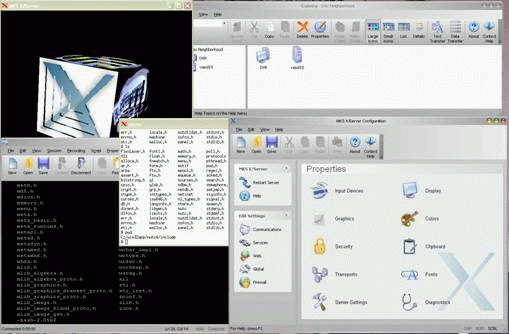 PTC X/Server's user interface makes it easy to accomplish all your UNIX/Windows OS integration tasks. The goal of our windows X Server is flawless integration with an easy to use interface.